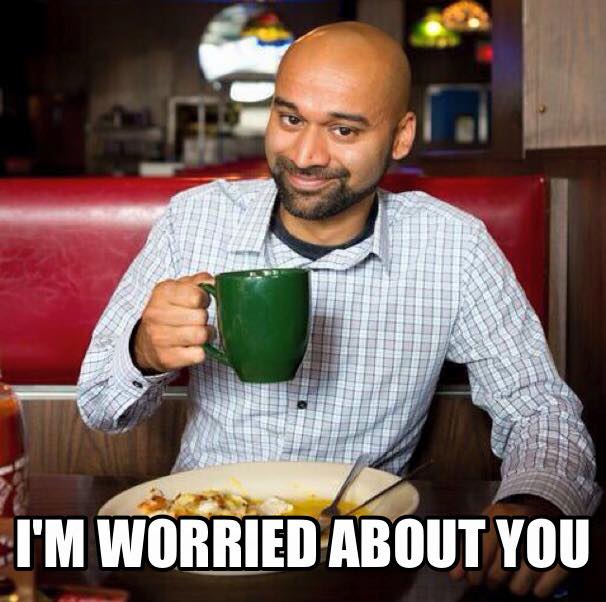 "I'm Worried About You" began on one of many nights at the wonderful Surly Girl Saloon open mic in Columbus. A couple of my fellow comedians went on stage and said some very depressing things in their jokes. So I went on stage and told them "I'm worried about you." It went on from there on social media and then turned into a meme via the picture above. I love breakfast. I love drinking coffee. I'm also always worried about you and this meme, among many other "I'm Worried About You" memes that have been created with my face, conveys that.
Fellow comedians, comedy supporters, and random people have embraced this meme. So, I decided in some small way to spread my worry. An "I'm Worried About You" bookmark is now available on this website. All proceeds from this bookmark will go to LGBT Books To Prisoners, a volunteer-run organization based in Madison, WI that sends books and other educational materials, free of charge, to incarcerated LGBTQ people across the United States. I wanted to do something that promoted literacy, encouraged critical thinking, and also supported and provided awareness to a worthy cause. If you purchase a bookmark via the website, it's $5. But any dollar amount is appreciated, more or less. So, feel free to email me at sumukhcomedy@gmail.com and we can make arrangements if you'd like to donate separately of this website and receive a bookmark.
Thanks for your support and always remember: I'm worried about you.